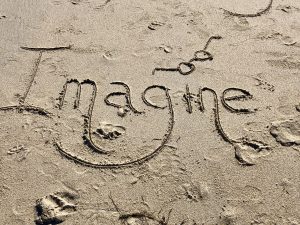 Being purposely fully present in the moment leads to greater mindfulness and a non-judging capacity as we are experiencing the coming and going of mental events, the breath, bodily sensations and the sensory features of our senses. Introspection and self-inquiry foster awareness resulting in better understanding of ourselves, of our behavioural patterns, of our emotional reactivity in order to become more responsive and resilient.
Mindfulness can be practiced in many different ways such as sitting meditation, walking meditation, movement practices, in everyday life and also by reading or creating poetry.
Poetry is Mindfulness and helps sharpening our awareness and understanding of our thinking mind and experiences to do with our emotions and relationship with events. It helps us identifying a particular theme like non-attachment, acceptance, connection, purpose and meaning. And it offers a taste of being good enough just as we are.
Any moment or experience can be turned into poetry as it happened to me this morning. Being fully present with a great sense of equanimity and bliss I walked down the beach to discover the unexpected.
Poetry by the Sea – A morning encounter of beauty, inspiration, love, connection and wisdom – A morning encounter of beauty, inspiration, love, connection and wisdom
This morning was welcomed by a beautiful blue sky with a few softy cotton clouds.
The rising sun added to the intensity of blue colour strengthening the contrast of white and blue. White puffy clouds (just a few) painted on a bright blue sky overseeing the ocean. Can you see it?
A gentle breeze diffuses the rising heat and gently strokes the skin on face and body. Warm feeling sensations grow inside the body as a subtle response to this loving touch. Can you feel it?
The attentive mind is fully aware, calm and present. Can you imagine it?
The body movements vary between sitting, standing and walking on and alongside the beach. The sand under the soles of the feet feels soft and gentle, firm and supportive. Can you sense it?
The sound of the ocean is very rhythmic, a coming and going sound. Silence in between. Can you hear it?
I am the pause, I am the moment, I am the sound, I am the sight, I am the touch, I am the sense … I am nature. One connection, one love walking on the beach on this beautiful morning.
As I am walking I realise that I am walking on a canvas of nature – a piece of art always changing. Thich Nhat Hanh comes to mind 'Walk as if you are kissing the Earth with your feet'. Yes, that feels home. I am home, I have arrived with every step, a soft touch, a gentle imprint not lasting long as the ocean is claiming its space.
Letters written on the sand are jumping into my eyes. Wondering who wrote a message for their beloved ones here? A male name written on sand, maybe a girl who wrote this to express her love. Who knows?
The walk continues and more letters forming words and words completing sentences appearing in front of me, on the sand. Beautifully written, very artistic and with love. You can see the loving effort that has gone into it. The completeness of letters connected to words are making sense the more I am walking and reading. My mind gets excited at this discovery of a free display of art on the sand. My heart opens up with joy, so very happy being here right now, being offered a quote by surprise. Who made this?
Pause.
I am taking it in and feeling tremendously grateful of this moment. I am glad that I have chosen the attitude of walking as if I would be 'kissing the earth with my feet'. Would I have seen this unfolding poetry on the beach canvas without this attitude? Maybe not.
Many people walk by, appear to be engaged with their minds attending to something else than this very moment in nature.
I am walking, touching the sand with the soles of my feet. Soft sand receives my foot print and a few moments later washed away by the ocean in the gentlest way an ocean can be. It is like the ocean too is kissing the earth.
'Poetry is an act of peace. Peace goes into the making of a poet as flour goes into the making of bread' – Pablo Neruda
At the end of this in the sand written quote there is an elderly man standing there and holding a bamboo writing stick in one hand, a camera in the other hand. A hat on his head protecting his skin from the sun, he is wearing a t-shirt and short pants. No doubt, he is the creator of this beautiful gesture inviting people to stop and read, to let the poetry and messages resonate from within.
The sound of his compassionate voice and the curiosity in his eyes make it very easy to connect. We chat about his art on the beach, the motivation behind, talking about grief and loss and watching the sea claiming back parts of the beach and washing away the letters and words he wrote. We both agree this is a great opportunity to practice letting go and to celebrate the witnessing of the ever changing elements of nature.
'I WAS PUT ON THIS EARTH TO ACHIEVE MANY THINGS – AT THE MOMENT I AM SO FAR BEHIND I AM NEVER GOING TO DIE' – GWS
Geoff's loving efforts and creations have certainly made a difference to a few life's this morning. And to mine too. It was an enriching encounter developing into something much bigger and lasting in mind and heart all day.
Namaste!