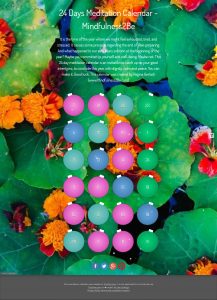 It is the time of the year where we might feel exhausted, tired, and stressed. It causes some pressure regarding the end of year preparing. The holiday season can even cause some anxiety and that certainly doesn't help to the nervous system to relax. The more you feel running out of time, and certainly not being able to shuffle 10 minutes aside for yourself, the more you need the time out.
You may remember that you came up with a great new years solution and plan for 2018. Mainly to do with your well-being and health. What happened there? Did you manage to carve out time for making yourself number one priority? If yes, congratulations. If the answer is No then don't get too upset; simply start now. In the end it is your choice what you are going to do with your time. Just keep in mind pushing yourself to the limit without any down time might not be sustainable.
This 24 day meditation calendar is a gift for you from me and an invitation to catch up on your good intentions, to conclude this year with dignity, calm and peace.
https://tuerchen.com/4bfb9318?fbclid=IwAR0Bm637Y4vufEn4tPUnYjySOPWHdrhjliSAF1yjy72tK1JdJRywNY5myZE
You can make it. Good luck.